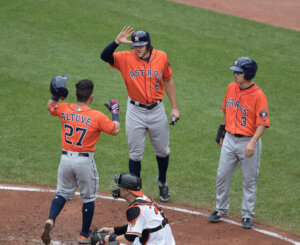 The Houston Astros are on the verge of doing something almost unprecedented in MLB history. Photo by Keith Allison (flickr).
The Houston Astros have erased a 3-0 deficit in the ALCS to force a Game 7 with the Tampa Bay Rays
The Astros' World Series odds were+3200 after they lost Game 3
See how Houston's odds improved after each win
---
The Houston Astros are on the verge of doing something only one other MLB team (Boston Red Sox, 2004 ALCS) has ever done: come back to win a best-of-seven series after trailing 3-0.
A dominant 7-4 win over Tampa Bay in Game 6 marked the third leg of the Astros' four-part parlay. While they are slight underdogs heading into Saturday's winner-take-all Game 7, their +330 World Series odds are in another universe compared to their odds after Game 3 of the series.
The table below shows how the Astros' and Rays' World Series odds have changed over the course of the series.
Astros vs Rays World Series Odds Progression
| Team | Odds after Game 6 | Odds after Game 5 | Odds after Game 4 | Odds after Game 3 | Odds after Game 2 |
| --- | --- | --- | --- | --- | --- |
| Houston Astros | +330 | +875 | +2300 | +3250 | +1300 |
| Tampa Bay Rays | +270 | +165 | +128 | +113 | +135 |
The odds after Game 6 represent the average at online sportsbooks as of 2:05 am ET on Oct. 17th.
What Do the Numbers Mean?
After Game 3, when Houston was carrying +3250 odds to win the World Series, sportsbooks were giving the 2017 champs less than a 3% chance to lift the Commissioner's Trophy again.
At that point, the Rays were the outright favorites to win the World Series at +113.
Even after getting on the board with a Game 4 win, Houston's odds only improved modestly to +2300. That might look like a big jump, but it raised Houston's true probability (i.e. the implied probability of their true, juice-free odds) from about 2.6% to 3.7%.
When they trimmed TB's lead to 3-2, oddsmakers started to give a comeback a  little more credence. The movement from +2300 to +875 after Game 5 represents a rise from 3.7% to about 9.2% in true probability.
Now that the Astros are one game away from a berth in the Fall Classic, their odds are nearly level with the Rays'. Their new +330 futures price has a juice-free probability of 21.2%.
2020 MLB AL & NL Pennant Odds Tracker
What's in Store for Game 7 and Beyond?
My colleague has already set out the Houston/Tampa Bay Game 7 odds and analyzed the pitching matchup of Lance McCullers Jr vs Charlie Morton.
If Houston manages to win Saturday's coin flip, that's when the hard work will really begin. Waiting in the World Series will either be the Los Angeles Dodgers or Atlanta Braves.
LA posted an MLB-best 43-17 record (.717 win percentage), which put them on pace for 116.2 wins in a regular 162-game season. (The record for wins in a season is 116 by the 2001 Seattle Mariners.) The Dodgers were full value for those 43 wins, too. Their +136 run differential was 62% more than the second-best team (San Diego, +84) and more than double the third-best teams.
Coincidentally, two of the three teams that tied for the third-best run differential include the Braves and Rays (+60). While Tampa did it mostly with defense (T-5th in runs allowed at 229), Atlanta rode a prolific offense to another NL East title. Their 348 runs scores were second only to – who else? – the Dodgers.
This is not the venue for a detailed breakdown of how Houston matches up with the Dodgers or Braves – that will come once the matchup is settled – this is merely a word of warning: the Astros' "team-of-destiny" aura is going to run headlong into arguably the best team of this millennium or the lineup of mashers that beat them.
Sascha Paruk
NFL NBA MLB NHL NCAAF NCAAB Tennis MMA Sportsbooks Gambling Lead Odds Maker & Editor

Lead Odds Maker & Editor
Sascha has been the Lead Oddsmaker for SBD for over four years, specializing in football, baseball, hockey, and basketball. He has been featured on USA Today's Draft Wire, Fansided, Chicago Tribune, Newsweek, and numerous additional local and national publications.
NFL NBA MLB NHL NCAAF NCAAB Tennis MMA Sportsbooks Gambling