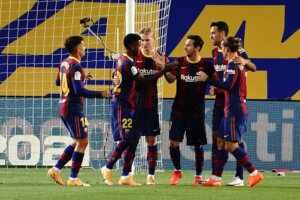 Can Barcelona top Juventus and win Group G of the Champions League? Photo by Joma Garcia/Actionplus/Icon Sportswire.
The 2020/21 Champions League group stage kicks off after an early international break
Group G with Barcelona, Juventus, Dynamo Kyiv and Ferencvaros is definitely one of the most interesting groups with the possibility of Ronaldo squaring off against Messi twice
Read below for a preview and prediction on who will win the Group and finish top-2
---
Group G in the Champions League has to be one fans are turning their heads at. The thought of Ronaldo and Messi facing off not once, but twice is any football fan's craziest dream. Additionally, rookie head coach Andrea Pirlo is tasked with manning one of the largest clubs in Europe to success abroad, not just in Italy. Barcelona feel the pressure of Messi eventually leaving and with two teams that have nothing to lose here, this group has so much at stake.
Champions League Group G Odds
| Team | Winner Odds | Top-2 Odds |
| --- | --- | --- |
| Barcelona | -155 | -10000 |
| Juventus | +125 | -10000 |
| Dynamo Kyiv | +3000 | +900 |
| Ferencvaros | +8000 | +1700 |
Odds taken on October 18th from DraftKings.
Starting From the Bottom
Ferencvaros has the lowest odds to win or place in the top two of Group G in the Champions League. However, you cannot underestimate any squad in this competition, or you will be fooled. This is the first time the Hungarian team is in the group stage since 1995 when they were paired with Grasshopper, Ajax and Real Madrid. While you should not expect anything from this side, they are the Hungarian champions for a reason so do not plan on them just lying down.
Ironically enough, Dynamo Kyiv and Ferencvaros have played each other before in the 1975 final of the European Cup Winners Cup, a game Kyiv won by a score of 3-0. Kyiv have much more European experience, having played in the Champions League or Europa League every year this century. Kyiv qualified this season by finishing in the top-two of the Ukrainian Premier League, second to Shakhtar Donetsk.
The last time Kyiv reached the group stage of the Champions League they finished last in a group with Benfica, Napoli and Besiktas. While I do not believe that will happen again with the likes of Ferencvaros in the group, it will be a tall order going against Juventus and Barcelona to make it out of the bottom-two.
2021 UEFA Champions League Odds Tracker
The Case For Ronaldo and Juventus in the Champions League
Juventus are a great case study to explain why teams who play in less difficult leagues have a hard time in Europe. The Old Lady looks incredible against Sampdoria or Fiorentina but they struggled in games that matter, even in Italy. A recent draw against Roma in the league supports this, and without Ronaldo in their first match due to Covid-19, Juventus better be on their toes to kick off the Champions League.
Pirlo has come in as the new manager over the summer break, and with Ronaldo and Dybala staying another year, their time to win is slowly dwindling. They did not buy good enough players over the summer with the exception of American Weston McKennie and they simply do not have the depth to compete seriously in a condensed season. Surely, they will get out of the group, but it might not be easy.
Messi Will Put Catalonia on His Shoulders
Sometimes betting on chalk is the way to go, and that is the case for this Champions League group. Barcelona has its struggles off the field with politics and the operations of the club, that is factual. Nonetheless, as long as Lionel Messi is wearing the badge of Barcelona, his talents will carry them wherever they wish to go.
𝐓𝐡𝐞
𝐆𝐨𝐥𝐝𝐞𝐧
𝐁𝐨𝐲𝐬 pic.twitter.com/3b9GoqUj8v

— FC Barcelona (@FCBarcelona) October 16, 2020
They have some young talent that Messi will be able to mentor, and if Ronald Koeman can turn Griezmann back into half the player he was at Atletico Madrid, teams will be in trouble.
Even Philippe Coutinho seems to be finding a role with this side. I stand by my previous take that Barcelona will not come close to winning this trophy. However, in a group with four easy wins and a Juventus side that has it easy every other week in Italy, they are destined to win.
Best Bet
The best bet here is to go with how the odds are currently stacked up, with Barcelona winning Group G of the Champions League. Juventus will come in second, with Kyiv and Ferencvaros trailing.
My Pick: Barcelona to win (-155)
Josh Ricker
NBA MLB Soccer Sports Writer

Sports Writer
Josh Ricker is a freelance sports journalist, currently attending the University of Southern Maine (Bachelor of Science in Sports Management and Marketing). He has recently interned with the AA Portland Sea Dogs, and his work has been featured on Fansided, as well as now here on SBD.
NBA MLB Soccer