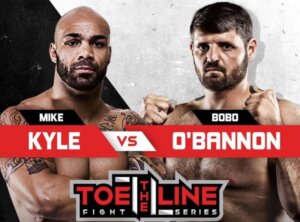 Photo credit to Combat Insiders
Toe The Line 2 goes Friday, October 16th, at 8:00 PM EST
Which fighters will emerge victorious when the gloves come off?
Check out the fight odds, analysis, and predictions below


---
Toe The Line 2 emanates from Whitesands Boxing Fitness & Wellness Center in Plant City, Florida. The sophomore event from BKFC's feeder league will broadcast on the Bare Knuckle TV app.
Broughton's Rules are the name of the game as these warriors ready to fight in bare-knuckle boxing. BKFC promotional figurehead David Feldman has been talking about this series since the summer and now we're veering into the second event in the series.
Toe The Line 2 Odds
| Fighter | Odds |
| --- | --- |
| Michael Kyle | -115 |
| Bobo O'Bannon | -115 |
| Fighter | Odds |
| Michael Bissett | -200 |
| Jason Fish | +160 |
| Fighter | Odds |
| Bruce Lutchmedial | -260 |
| Will Chope | +200 |
Odds as of Oct. 15.
Mike Kyle's Bare Knuckle Debut
Mike Kyle is a well-travelled MMA veteran who will be making his bare-knuckle boxing debut tomorrow night. After over 40 MMA bouts, Kyle is ready to shed the 4-ounce gloves and knuckle up.
Kyle has competed on some of the most reputable stages in mixed martial arts including UFC, Strikeforce, WEC, and Pancrase to name just a few.
Mike Kyle has 17 (T)KO victories across his 23 MMA wins and the general ferociousness of his fighting style seems tailor-made to fighting within BKFC. Kyle hasn't fought for a year though and is currently on a four-fight losing skid.
I think the parity in the main event odds is informed by both Kyle's aforementioned string of rough luck in competition and O'Bannon's slight edge in bare knuckle experience.
Vasiliy Lomachenko vs Teofimo Lopez Jr Odds and Pick
Bobo O'Bannon's Second BKFC Bout
Bobo O'Bannon is quite effective in the clinch positions and lands meaningful dirty boxing within the BKFC ruleset. He knows when to be calculated and measured at a distance but then also knows when to time his offensive entries to unleash a barrage of punches.
O'Bannon is well regarded for his memorable fourth-round TKO victory over Troy Beets at BKFC 5.
O'Bannon showcased the ability to overcome some adversity as his nose was bloodied early on and he was dropped hard in the second round. O'Bannon was the opening fight on the card for his prior outing. Now he finds himself in the main event spot on a BKFC platform.
O'Bannon's combat experience pails in comparison to Kyle's though and I ultimately think that will be a big difference-maker in this fight.
Kyle vs O'Bannon Tale of the Tape
0-0 [BKB]
23-19-1
(2 No Contests) [MMA]
Record
1-0 [BKB]
0 [BKB]
17 [MMA]
Knockouts
1 [BKB]
6'3
Height
6'2
77″
Reach
             Not Applicable
Rafael Cavalcante,
Tsuyoshi Kosaka,
James Irvin [MMA]
Significant Wins
Troy Beets
Orthodox
Stance
Orthodox
Kyle is a brick fisted competitor with power that has been known to fell some durable heavyweights and light-heavyweights.
Likely, Mike Kyle will have an early adjustment period and will eventually get comfortable in there. I think Kyle secures a stoppage victory in this one.
Pick: Michael Kyle (-115)
Main Card Picks for Toe The Line 2
Michael Bissett vs Jason Fish: Bissett has 29 pro boxing bouts to his credit and also has a 1-0 bare-knuckle boxing record when he knocked out Aaron Brink in less than a minute and a half at BKFC 3. Fish comes in with a nine-fight MMA background having fought for promotions like King of the Cage as well as Bellator. In the end, I see Bissett securing a stoppage victory here. Pick: Michael Bissett (-200)
Bruce Lutchmedial vs Will Chope: Chope has over fifty MMA fights and in his most recent combat effort, came up short in his bare-knuckle boxing debut when Joe Elmore stopped him in less than a minute at BKFC 11. I think the recent work that Lutchmedial has been doing with BKFC phenom Jim Alers will pay dividends in this prizefight. I see Lutchmedial getting it done here via knockout. Pick: Bruce Lutchmedial (-260)
Dylan Bowker
MMA Sports Writer

Sports Writer
A part-time writer and full-time broadcaster, Dylan has hosted MMA talk shows Lights Out and Pure Fight Radio with featured guests like Jens Pulver, Roy Nelson, Miesha Tate, and covered some of the biggest MMA promotions like Rumble in the Cage, Unified MMA, and King of the Cage.
MMA