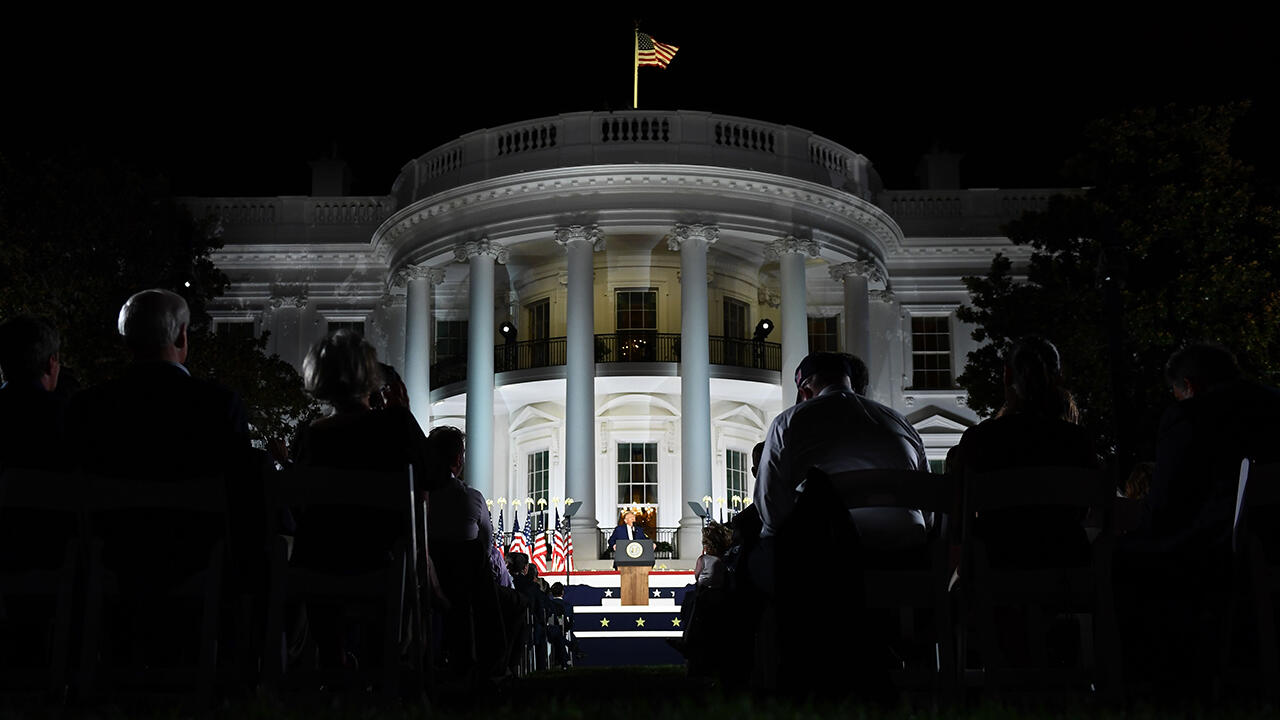 ---
Thurday's polls round-up
Numbers from pollsters rated B or better by Fivethirtyeight
NATIONAL
MARIST (A+): BIDEN +11
NBC/WSJ (A-): BIDEN +11
IBD/TIPP (A/B): BIDEN +8
LOWELL (A/B): BIDEN +10
YOUGOV (B): BIDEN +10
ARIZONA
MONMOUTH (A+): BIDEN +6
SOUTH CAROLINA
SIENA (A+): TRUMP +8
---
How will tonight's TV events play out?
Tonight was supposed to be the second TV debate. That head-to-head event was cancelled when Trump contracted Covid and rejected the option of a virtual debate. We will, however, get a chance to watch both candidates on TV tonight although it will require two screens.
Rather than go head-to-head, Biden and Trump will appear simultaneously on different TV networks at different Town Hall events. Biden is on ABC, from Philadephia. Trump on NBC, from Miami. The latter network came in for much criticism after announcing theirs at the last minute and thus depriving all but the most engaged of voters the chance to compare both candidates.
We discussed whom a third debate might favour in the latest episode of our Politics…Only Bettor podcast. The general consensus is that Biden has more to lose, given his lead, and that certainly applies if they do appear head-to-head on the 22nd October. I'm sceptical tonight will change anything though.
With this bizarre decision to show the events simultaneously, surely America's two polarised tribes will largely tune in to see their favourite. Rather than illuminating the choice before voters, this set-up smacks of a confirmation bias festival.
Unless one of them makes a major gaffe, I can't see either event being prominent in the news cycle for more than a few hours. Last week's VP debate didn't cut through beyond the engaged minority and, apart from general derision of the chaos, few are still discussing the first debate, which was actually very consequential and significantly moved the odds.
Another problem for viewers is that unlike the first debate, these Town Halls won't be syndicated across rival networks. The combined audience share is unlikely to be anywhere near that 73M figure.
UK viewers will certainly be able to watch online via ABC News Live or NBC News Live. According to the current schedule on Sky Digital, neither event is covered on TV but I suspect that will change. CNBC (Channel 504) are covering the Trump event in the States while Sky News are owned by the same company as NBC.
Check our daily Twitter thread on the @BetfairExchange feed for updates on this schedule, and I'll be live-tweeting during at least one of the events.
For what its worth, I'm confident Biden is much better suited to this format. He did well engaging directly with voters at a CNN Town Hall last month, a day or so after Trump had drawn criticism for his tone deaf responses to direct questions about Covid.
---
Wednesday's polls round-up
Numbers from pollsters rated B or better by Fivethirtyeight
NATIONAL
IBD/TIPP (A/B): BIDEN +8
YOUGOV (B): BIDEN +10
MICHIGAN
EPIC-MRA (B+): BIDEN +9
NORTH CAROLINA
NYT/SIENA (A+): BIDEN +4
GEORGIA
SURVEY USA (A): BIDEN +2
QUINNIPIAC (B+): BIDEN +7
OHIO
QUINNIPIAC (B+): BIDEN +1
NEW HAMPSHIRE
SUFFOLK (A): BIDEN +10
---
Blow for Trump as Obamagate proves a dud
One argument for backing a Trump comeback has been expectation that he would produce an 'October Surprise' to damage Joe Biden and change the electoral weather. A 2020 equivalent of the 'Podesta e-mails' that undermined Hillary Clinton and, critically, altered the late news cycle in 2016.
For years, Trump has been railing about 'Obamagate' – the claim that the former administration illegally spied on his campaign in 2016, to engineer what the President likes to call the 'Russia hoax'. He raised it as recently as the last week and said yet again that Hillary Clinton should be jailed.
Attorney General Bill Barr ordered an investigation into the 'unmasking' of members of Trump's campaign, whose names were redacted in intelligence documents. Most notably Trump's initial pick for National Security Advisor Michael Flynn – who resigned over his Russia ties and has since been convicted on unregistered foreign agent charges.
There was serious speculation – from both supporters and staunch critics – of major arrests of political opponents before the election. Trump surrogates had claimed they had the damning documents signed by Biden himself.
'Unmasking' probe commissioned by Barr concludes without charges or any public report https://t.co/GZ37nw2L5z

? The Washington Post (@washingtonpost) October 13, 2020
This investigation appears to have imploded in quite humiliating fashion. Attorney John Bash failed to produce any criminal charges and there won't even be a public report. It seems that, in fact, any such report would exonerate Obama administration officials and has thus been buried.
Does this move votes? No. I doubt a single one. The significance lies in what it fails to achieve, at a time when Trump urgently needs a gamechanger. Its another reminder that this isn't a re-run of 2016. Attempts since to generate dirt on his opponents have achieved nothing beyond his own impeachment. The same tricks don't work second time around.
---
Tuesday's polls round-up
From tonight, we're going to add this round-up of all the day's most significant polls. The rating in brackets, eg (B+) applies to their rating from fivethirtyeight.com, based on past performance. Firms without a rating, or rated 'B-' or lower, are excluded.
NATIONAL
IBD/TIPP (A-): BIDEN +9
YOUGOV (B): BIDEN +8
NORTH CAROLINA
MONMOUTH (A+): BIDEN +3
---
Was it merely Trump's rally that moved the market?
The sudden market move for Donald Trump lasted overnight. He's still trading around 1/21.49, up from 2/51.41 on Sunday afternoon.
We've had a few hours to find an explanation or to see whether it was a signal of impending news. Nothing dramatic has materialised on the polling front.
On reflection, my conclusion is that the dynamic is purely psychological. Indeed, I think that explains the betting trends of this unique election cycle.
In every previous election, not just the USA, the betting was primarily driven by polls. Not to the letter by any means – markets are more forward-thinking – but polls were the most credible and important indicator.
The polls have been consistently terrible for Trump. He's trailed Biden for five years in head-to-heads by substantial margins. Yet his implied chance on Betfair has always been much lower than even the most conservative prediction model estimates.
The most common explanation is that bettors fear a repeat of 2016. That may explain reluctance to steam into Biden at odds-on, but not the two recent, massive gambles on Trump. The first came during and after the Republican Convention and then last night, just as he was about to stage his first rally since getting Covid-19.
Is this simply an effect of Trump supporters feeling pumped up at specific moments of the campaign? This makes more sense than other explanations.
Anecdotally, I sense a much greater psychological dimension than usual. Trump supporters are bullish, ultra-confident, dismissive of 'fake' polls and media. Trump opponents are terrified that either history will repeat itself, or that he will rig the election.
If that is the case, it is bound to affect the betting.
---
Big market move for Trump tonight
Ahead of tonight's rally, a substantial gamble on Trump in developing. In shortening from 12/53.35 to 2/13.05 today, he's reversed all of Joe Biden's gain on our Next President market from yesterday – which in itself was one of the biggest moves all year.
What lies behind it? Perhaps something significant is about to break but as it stands, I'm at a loss. If that something is a poll, it would need to be a real outlier. Today's numbers were predictably grim for the President, in line with recent trends.
See below – each pollster's rating from Fivethirtyeight is in brackets.
NATIONAL DAILY TRACKERS
IBD/TIPP (A/B): BIDEN +10
USC/DORNSIFE (B/C): BIDEN +13
PENNSYLVANIA
IPSOS (B-): BIDEN +7
WISCONSIN
SIENA (A+): BIDEN +10
IPSOS (B-): BIDEN +7
MICHIGAN
SIENA (A+): BIDEN +8
---
Trump returns to campaign trail in Florida
Around midnight, President Trump will host his first campaign rally since being infected with Covid-19. He will address supporters at Orlando Sanford Airport in the ultimate swing state of Florida.
The rally comes after his doctor Sean Conley signed off a memo saying he was 'no longer a Covid transmission risk'. The White House still refuses to say when he last tested negative but Trump told supporters in an audio message that he's 'tested totally negative', suggested he has 'immunity' and therefore 'can't get it'. Twitter, however, ruled the below a breach of their rules.
A total and complete sign off from White House Doctors yesterday. That means I can't get it (immune), and can't give it. Very nice to know!!!

? Donald J. Trump (@realDonaldTrump) October 11, 2020
Regardless of whether this rally is a smart, or responsible, move, the choice of venue is no surprise. No serious analyst believe he can win the electoral college without Florida but the polls look grim. Biden leads by an average 4.5% and by 11% in one respected survey last week.
More specifically the airport is in Seminole County and part of the famous I-4 corridor. Regarded as the key to winning the state, this is a 'bellwether' region – proven a reliable indicator of the national picture in previous elections – and home to precisely the sort of soft-Biden/undecided voters he needs to convert.